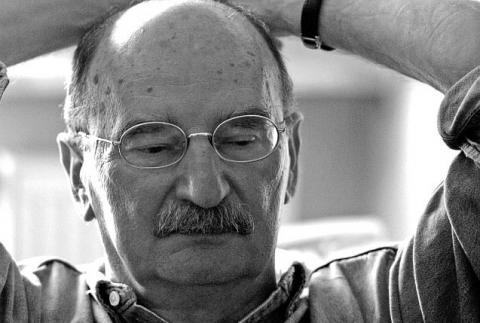 SŁAWOMIR MROŻEK, 1930-2013
On August 15th the world theater lost one of its finest. Sławomir Mrożek, the brilliant, world-famous Polish dramatist, died at the age of 83 in Nice, France, his home since 2008. For international theater-going audiences, Mrożek is most famous for his absurd comedies, two of which, Strip-tease (1961) and the iconic Tango (1965), have been critically acclaimed as modern masterpieces of world drama. In Poland, however, in addition to being known for his playwriting, Mrożek is also highly regarded as a writer and a cartoonist. He debuted in 1950 with a series of cartoons and, beginning in 1953, for many years was a regular cartoonist for the Polish Przekrój, a weekly journal of social and political commentary.
Mrożek's diverse body of work as a dramatist, writer, and cartoonist is defined by a very specific sense of humor characterized by an ironic distance towards political and social affairs. In Poland Mrożek is often credited with creating a particular style of irony; "styl Mrożkowy" (Mrozkesque style) has permanently entered the Polish vocabulary, denoting a stylistic blend of surrealist black comedy and grotesque political satire. After flirting briefly with Stalinism in his youth—like many Eastern European intellectuals of his generation—Mrożek eventually grew disillusioned with the regime, and turned his pen against its absurd brutality.
Strip-tease was Mrozek's first attempt at serious political satire. The play is a tale of two men trapped in what appears to be a prison. They are trying to escape it by pretending they're free, but eventually they end up being slowly undressed by a large, mysterious hand. (The play famously prompted Jan Kott to declare, "In Poland, even a striptease may have ideological overtones.") Tango, Mrożek's first full-length play, reverses a typical generational conflict: in the Stomil family, the elder generation has disintegrated into utter chaos and moral entropy, while the youngest members of the family desperately cling to traditional values and rituals, no matter how vacuous they appear. The absurdly exaggerated intergenerational contrast, and the victory of brute, vulgar force over fragile and idealistic youth, symbolized the triumph of totalitarian ideology over humanistic ideals. In 1963 the disillusioned Mrożek left Poland for France, which prompted the authorities to ban his books and plays.
After spending some time in Italy and the U.S., Mrożek settled in Mexico. He returned to Poland in 1996, receiving a hero's welcome. In 2002, following a stroke, Mrożek lost the ability to both speak and write. He recovered after long and arduous therapy and resumed to write.