BODIES ON THE GEARS
In our latest issue (49.3), Bodies on the Gears, artists and authors ask how bodies on stage can arrest the grinding "gears" of society. Editor Tom Sellar poses the question this way in his introduction: "Could live arts hold special potential…as rigorously imagined convening of micro-utopias?" "Bodies on the Gears" features five original lecture-performances commissioned by Theater and presented live at the 2019 American Realness festival: Noah Fischer's <Performance Breakthrough 2036>, Nana Adusei-Poku's <Das N-Baby Und Ihre Puppe Afrika>, Karyn Recollet's <Choreographies of the Fall>, madison moore's <Unapologetic Femme>, and Jackson Polys' <Manifest X>. Online, we're offering readers an introduction to the diverse careers and interests of these five artists. 
---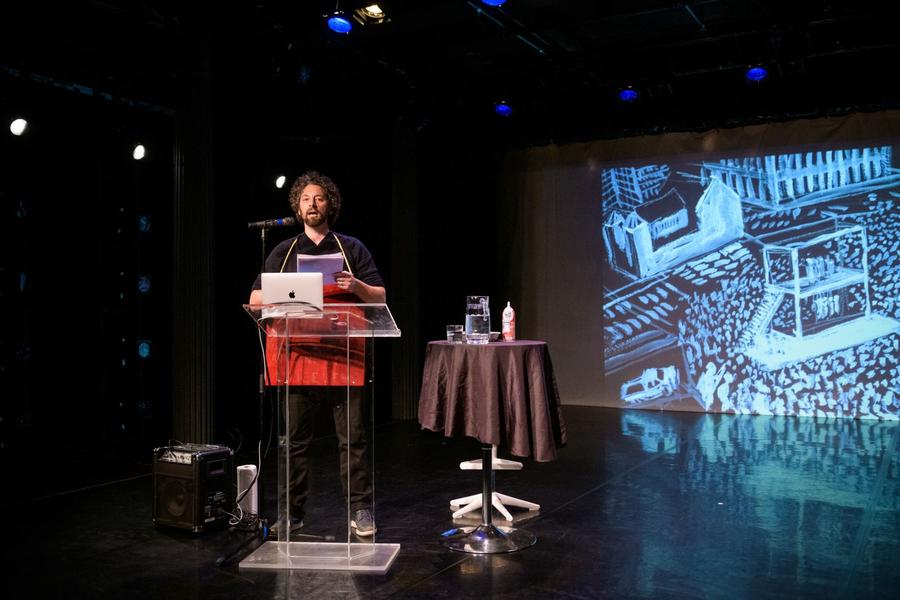 Noah Fischer is a founding member of Occupy Museums, whose project DEBTFAIR catalogs how capitalist economic realities impact creative labor. His drawings, installations, writings, and performances engage political struggle poetically and head on. Fischer's work has been seen at Guggenheim, MoMA, Brooklyn Museum, ZKM and in the 56th Venice Biennale, 7th Berlin Biennale and the 2017 Whitney Biennial. He is a longtime collaborator of Berlin- based theater group andcompany&Co.
Fischer's <Performance Breakthrough 2036> questions the artist's role in a projected dystopia, where Amazon is citizen #1 and street protest recedes into "safe spaces" placed under technological surveillance. Criticizing armchair Leftists and the collusion of capitalism and elitism, Fischer recalls an old-fashioned ethos for activism he sees as necessary. He urges us to "have faith in a little chaos," remembering that we are all "flesh and blood."
---
DAS N-BABY UND IHRE PUPPE AFRIKA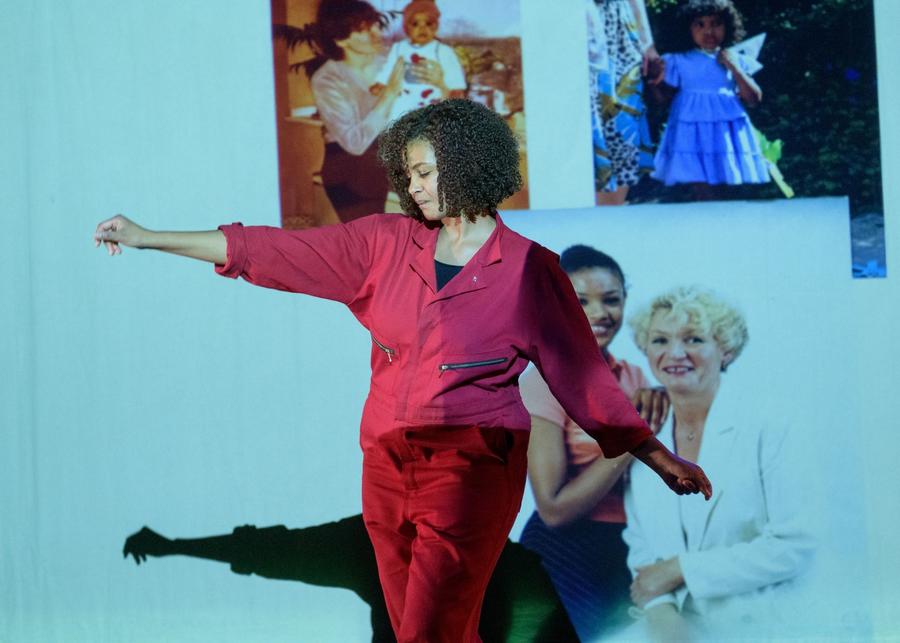 Nana Adusei-Poku is a scholar, artist and curator. Her research-based practice combines pedagogy and performance which centers the question that Stuart Hall asked: "What are the conditions of our existence?" ​
In <Das N-Baby Und Ihre Puppe Afrika>, Adusei-Poku demonstrates how her personal history interacts with wider narratives of cultural reification. As a daughter of a black Ghanaian father and a white German mother, she came to realize that her identity "was formed in an abyss," she writes, in the midst of "sociohistorical and intellectual erasure." Through anecdote, allusion, and movement, her piece shows performs her discovery of the multiplicity of her identity.
---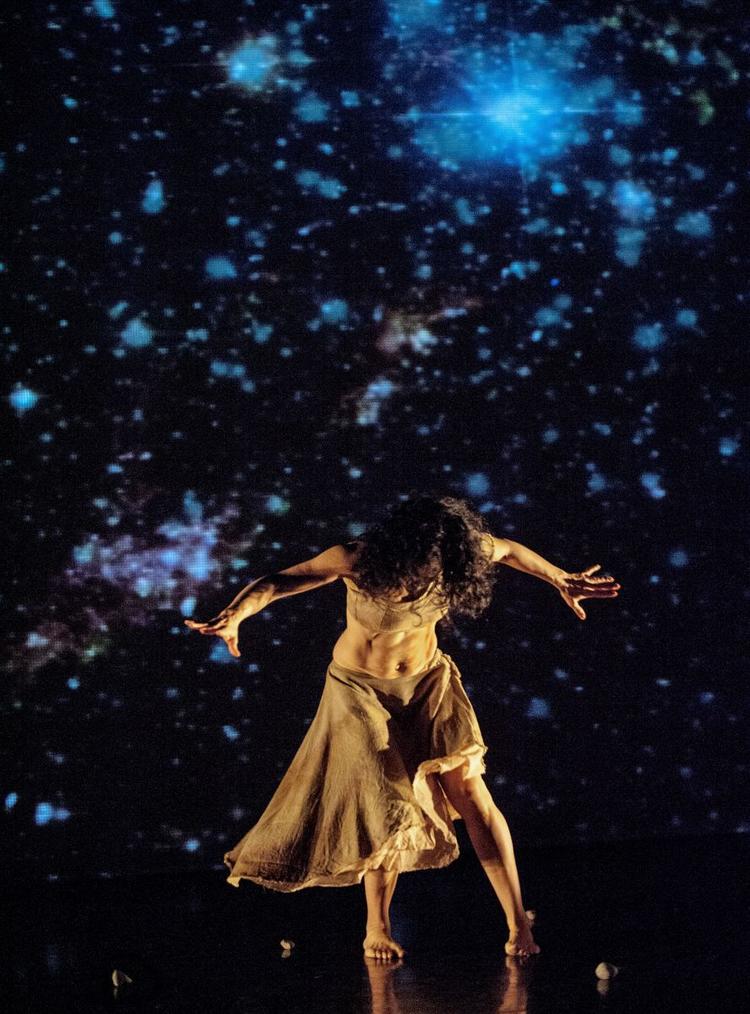 Karyn Recollet is Associate Professor at the University of Toronto's Women & Gender Studies Institute, and is a Cree woman originally from the Sturgeon Lake First Nation in Saskatchewan. Her research and writing explores Indigenous performance, hip hop culture, and Indigenous feminism, with a particular focus on new Indigeneities produced in urban hub spaces as they shape solidarity movements and social activism.
In <Choreographies of the Fall>, Karyn Recollet reimagines an indigifuturist ontology based on the idea of the fall as a choreographed "land-ing," or guided flight. She writes: "Choreographies of the fall can be seen as intentional moves to fly as embodiments of the Indigifuturist collage amongst strata of stars, atmosphere, dark matter, water, terrain, and sediment." In Recollet's performance, land is never static, but always in motion.
---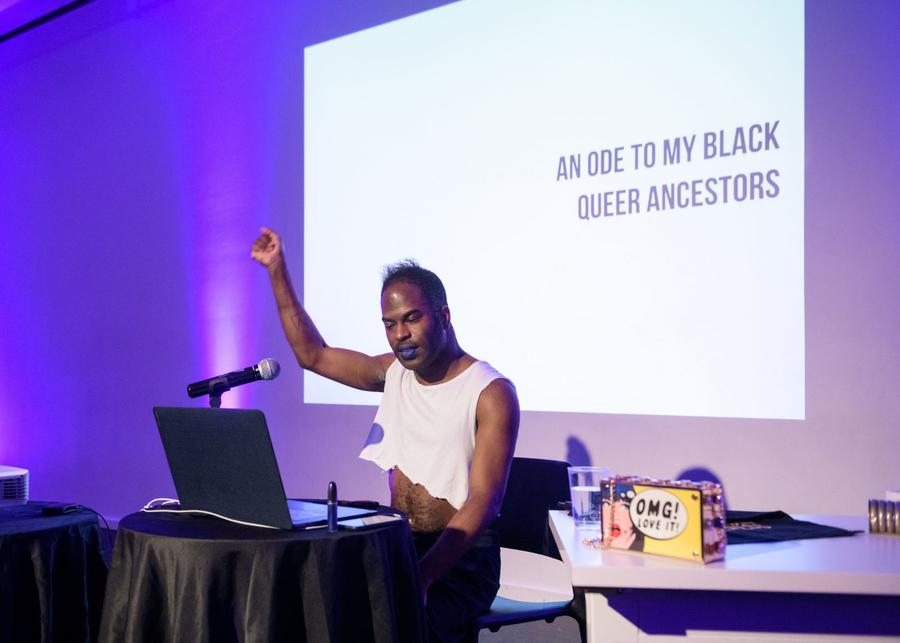 madison moore is a cultural critic, DJ and Assistant Professor of Queer Studies at Virginia Commonwealth University in Richmond, Virginia. He is creative director and resident DJ at OPULENCE, a queer techno party and art-collective with roots in London, Berlin and Richmond, Virginia.
Through lecture, autobiography, and performance, <Unapologetic Femme> examines the intersections of blackness, queerness, and style. Moore offers an ode to queer black ancestors, his grandmother, Prince, and more in an intimate meditation on the resilience, joy, and elegance of black femmes.
---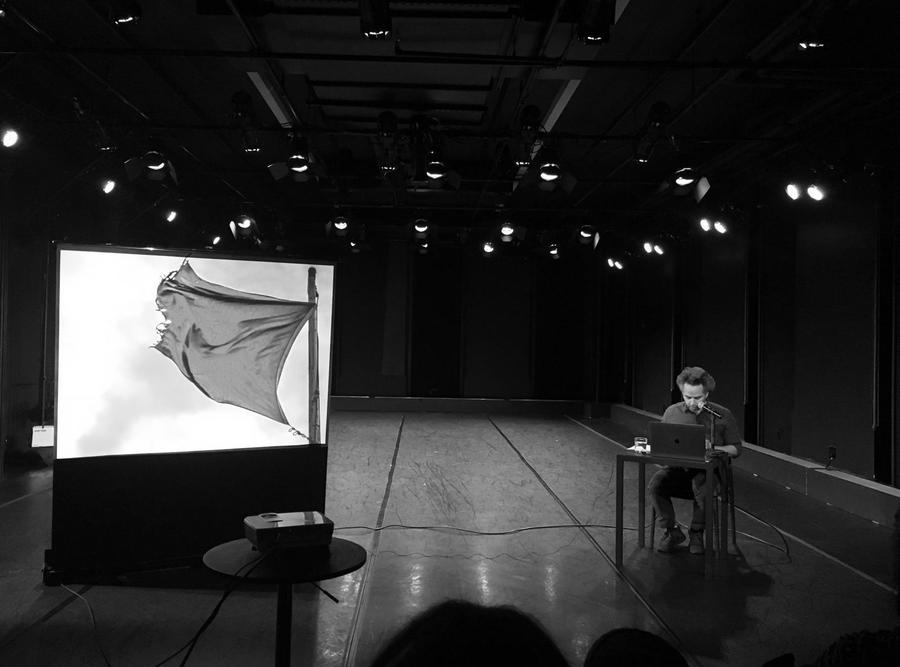 Jackson Polys is a multi-disciplinary artist belonging to Tlingit territory, living and working between what are currently called Alaska and New York, who examines negotiations toward the limits and viability of desires for Indigenous growth. His individual and collaborative works have appeared at the Alaska State Museum, Anchorage Museum, Sundance Film Festival, Union Docs, and the Whitney Museum of American Art, among other places.
"One might say that settler colonialism consists of a mastery of forgetting," says Polys in his lecture- performance <Manifest X>. His piece centers on the question of how America—a nation of futurity, based on the fantasy of freedom—can remember the Indigenous Vision of the past, and how indigeneous futurity can be manifested in America.
---